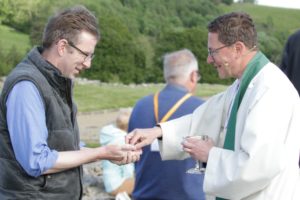 At the beginning of June, a long awaited gathering of clergy and lay people serving in rural churches across the north of England took place.  After two years of Covid-related delays, we were finally able to meet at the Sill, on Hadrians Wall, to reflect on the joys and burdens of church in a rural context and help to re-energise one another for ministry and social action in small, faithful, rural communities.
The opening worship took place at Vindolanda on the site of one of a number of recently discovered Christian churches from the sixth century, with an address from John Bell of the Iona Community, where he talked about how God blesses and values the small.  John also concluded Friday with a lively and inspiring talk on the beauty and faithfulness of small churches.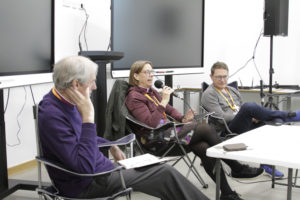 Saturday included a good-natured and energetic Q&A with three northern bishops – Bishop Mark of Berwick, Bishop James of Carlisle and Bishop Helen-Ann of Ripon (sadly our own Bishop Sarah who was planning to join us was unable due to illness), who all had stories and wisdom to share around the challenges, but also the opportunities for churches to serve and also shape rural communities, and a series of workshops on social isolation, pilgrimage, engaging with different groups in their communities, and how to continue to be a relevant presence followed this session.  Informative and supportive conversations took place across the weekend, ranging from the challenges of working in multiple parishes, to the importance of the church being a distinctive and prophetic voice in places where a more general 'community spirit' is held in high regard.
It was a pleasure to work alongside colleagues from Durham, Newcastle, Carlisle and Leeds diocese, and a wonderful opportunity to spend more time with hard-working and faithful people from our rural areas – and we were overwhelmed with the positivity and energy that people brought to their work in church and community.
There will be future learning events and activities, as well as (we hope) another opportunity to gather as a large group in 2024.  If you would like to be part of the conversation about rural churches and learn from others, join the dedicated Facebook group, for more detail about the conference and future events, please see the conference website, or contact Maddy for more information or any follow up or learning events you might like to see.