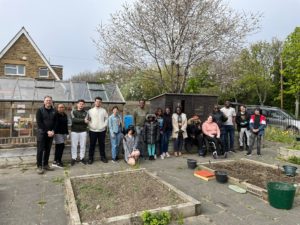 Are you a church that's already growing food, no matter what the scale? Are you a church that's been interested in the idea but hasn't quite got round to it?
As Christians we are aware of the 5th Mark of Mission – To strive to safeguard the integrity of creation and sustain and renew the life of the earth. How are you doing that? Might growing food be part of your response?
Bringing people together to grow food offers so many potential benefits – social contact and friendship, mental health benefits, being out in nature, and reducing the carbon footprint by producing food locally.
Communities Together Durham have established a small network of people from a variety of churches and traditions who are all either growing food in some way, or are planning to. We're holding an informal online event on Wednesday 11th May at 11.15am to chat about the benefits of getting involved, and Rev Matt Tarling will share the story of St Pauls, Spennymoor's experience of growing food.
It'd be great to see you there. If you're interested please email ray.leonard@durham.anglican.org and the zoom link will be sent to you directly